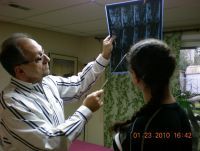 I'm, Dr. Alex Lansky, LMP, PhD - the owner of BODY REHABILITATION CLINIC, currently licensed as a Massage Therapist, and is specializing in massage as a rehabilitation healing modality in patients who are recovering from automobile and industrial accidents as well as neurological and musculo-skeletal disorders.

I'm also practiced as a Medical Doctor in Russia for 27 years. My
professional scope embraces Neuropathology, Spinal Neurology, and Manual Therapy that I pioneered in the former USSR. For years I instructed physicians and was one of the founders of a unique postgraduate continuing education course .
That's why, due to my PhD, you may receive a specialized assessment and consultation about the condition of your Nervous & Muscle-Skeletal Systems.
See more on: www.spinalneurology.com