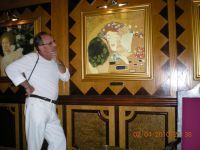 You are on the Website of
" BODY REHABILITATION CLINIC".
Massage and Manual Therapy is not just a luxury -- it is a necessity for complete mental and spiritual health! It is a fruitful exercise for your body aimed to restore sound physical condition!
I am (Dr. Alex Lansky, LMP, PhD, MD -- Russian Degree) the Owner of Body Rehabilitation Clinic, trained in a variety of modalities, and you can click on the "Services & Rates" page to learn more about the various techniques I use in my work.
Rejuvenate your body for an affordable price!

Experience Professional Consultation, Massage, Manual Body Therapy in our well equipped office or in the comfort of your own home!
Get your body aligned and obedient!
Accepting insurances:

Car Insurances, L&I, Aetna, Affinity Discount Agreements, Healthways WholeHealth Practitioners, Cigna Health Care, Corvel, Uniform Medical Plan, Premera Blue Cross, First Choice Health, Global, Heritage, Life Wise Preferred and others.

Also, if you'd like to set up an appointment with me, click on "Contact Me" and send me a message. I will call you back to confirm the details of your appointment, and also answer any questions you might have.
More information on the Website: www.spinalneurology.com
Thanks for visiting, and have a great day.